Koala Management
What makes us different?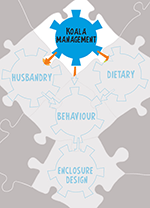 Koala Retreat works on understanding what's best for both your management style and structure with your current koala population. KR has designed a business structure that draws out your koala's personality, and determines how to best service your business environment. This in turn can determine whether particular individual koalas best suit your directions. Understanding what makes each animal tick enables KR to help you maintain a health and happier koala and ensure the appropriate infrastructure. Your business benefits as husbandry standards and staff effectiveness improve.
We can promote to you how REAL VISION with your NEW Koala Management Structure will allow flexibility with your Koala population. Starting with your most fundamental foundation, the collection methods of the dietary program and with a much more intense approach marrying both your Dietary & Husbandry program,.This alone will lower your cost of caring for the animals and changes their behaviour, which in turn creates enhanced future incomes for your organisation.
Koala Retreat works on five basic principals

1. Management Structure/Vision
2. Diet Program
3. Husbandry Program
4. Behaviour Program
5. Enclosure Design