Koala Retreat Husbandry Info Pack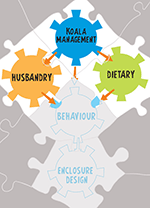 This works hand in hand with the Koala Dietary program. Once the optimum diet is in place, then the next step is determining how to capitalise on the change in behaviour of your koalas, and coordinate a husbandry program that relates to the diet. This aims to maximise efficiency for the individual wildlife institution with a long term program and ongoing training to staff, to help provide a winning program for many years to come.
CHECK LIST FOR SERVICES REQUIRED
Client should indicate below which of the following tasks they would like Koala Retreat (KR) to perform, and note any specific requirements.
Both Koala Retreat and the client should agree on an appropriate timeframe to optimise benefits. Below is an example of services, just send an e-mail and the type of services required,
| | | | |
| --- | --- | --- | --- |
| KR Service Provided: | Tick | Starting Date | Comments: |
| KOALA HUSBANDRY MANUALS / FACILITIES | | | |
| STAFF TRAINING | | | |
| STAFF MONITORING PROCEDURES | | | |
| SMALL KOALA POPULATION SET-UP | | | |
| KOALA BEHAVIOUR | | | |
| EUCALYPTUS MANAGEMENT | | | |
| KOALA RETREAT DIEARTY SERVICES (KRDS) | | | |
| ENCLOSURE DESIGN / INSTALLATION | | | |
| EDUCATION PRESENTATION | | | |
| MEDIA PRESENTATION | | | |
| OTHER | | | |