Our Services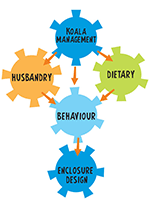 KR offers a professional service to the zoological industry, wildlife parks and zoos. We can help set and achieve short- and long-term goals to provide optimum results for happy and healthier koalas in captivity.
We can show you how good husbandry techniques, including an optimum diet, lowers the cost of caring for the animals and changes their behaviour, which in turn creates enhanced income for your organisation.
Our aims are to:
Provide a professional service to wildlife parks and zoos.
Show how dietary program with staff training produce certain behavioural benefits reduce cost and increase profits.
Develop infrastructure to support the well-being and display of koalas.
Educate staff on koala behaviour training, for health and safety and optimum display.
Develop a long-term plan for diet and husbandry to reduce cost and creasing income by:

providing an enriched base diet
delivering higher quality leaves, increasing nutrient value
developing a mental and physical enrichment program
enhancing the relationship between keeper and koala
reducing the risk of disease and infections
solving problems
training staff.
Our vision is to:
Provide a sustainable business that benefits the community and works towards ensuring the long-term survival of koalas.
We aim to do this by:
Using sustainable Australian natural resources
Understanding koalas' relationship with Eucalypts
Taking advantage of the animal's natural appeal within the local and tourist community.
We offer these services:
Consultancy for management of koalas in captivity
Husbandry training for staff
Behavioural training
Dietary advice and training
Enclosure design concepts (indoors and outdoors).