Creating a sustainable future
By proper planning involving the community as a whole, we have found that every aspect of the community wins; this ambitious task has already been developed and put into operation by Koala Retreat at the Western Sydney International Dragway located at Eastern Creek in Western Sydney.
Our initial pilot program was developed though our KR Environmental Wheel.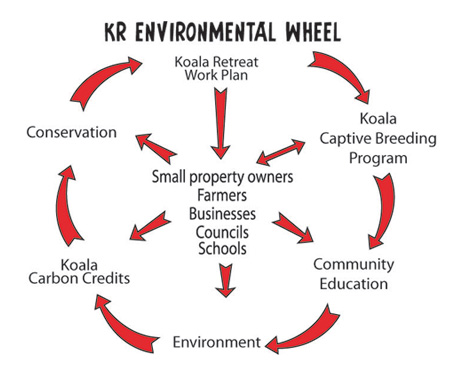 The KR Environmental Wheel tree planting projects aims to support more than just koalas and native wildlife, but also plan with property owners with acreage ways to embrace the advantages the support Koala Retreat can give them.
Increasing the value of their property
Increasing privacy by trees
Reduced wind and noise levels
Reduce soil salinity
Increase Aesthetic values
Councils could get businesses involved by offsetting carbon emissions that they produce with the involvement of KR Environmental Wheel. This would also support koalas in captivity, and with long term planning could develop a program whereby koalas in the wild would also receive the same support.