Welcome to Koala Retreat
Koala Retreat is a business that supports koalas by providing specific services to promote their behaviour, well-being and conservation. We provide an in-depth program, starting with the koalas' diet, that involves every aspect of their daily lives and maintains their nature instincts. Our long-term vision for your koalas includes conservation, education, staff development and training.
Combining these factors with the right enclosure designs and infrastructure will produce an award-winning long-term program that combines conservation and captive management techniques, bringing zoological institutions into the twenty first century.
Koala Retreat is committed to:
Combines conservation and captive management
Enhancing the health and well-being of koalas
Educate the public, Councils and Businesses
Create a business structure around koala conservation
Supporting Australian Tourism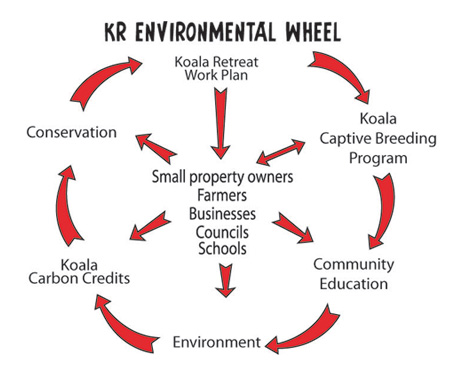 We want to educate the general public, businesses and local councils about caring for this rare animal, both in the wild and in captivity. Wherever koalas live, their food comes from a number of different Eucalyptus tree species, which we need to conserve and propagate.

Together we can all become involved in helping to solve local issues such as soil erosion, other environmental issues and general awareness of what needs to be done to maintain our native flora and fauna.

Koala Retreat's goal is to allow koalas and native wildlife to coexist with human society, in a community where one species doesn't dominate the other, creating a balance of environmental sustainability, recycling and development.